THE ULTIMATE PORTABLE SLALOM COURSE
CALL NOW! 1-800-723-4453
Set up in as little as 12 minutes! Click link below for video.
Insta-Slalom is an AWSA dimensioned slalom course that you can take with you anywhere. It can be set up or removed in as little as 12 minutes! It is great for use as a portable or permanent course. Insta-Slalom can be transported easily in your boat or vehicle. There are no tools, swimming or diving required.
Insta-Slalom invented the unique telescoping boom sections designed to make it unbelievably compact and easy to use.
WHY SKIERS CHOOSE INSTA-SLALOM
Compact Design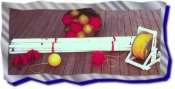 Insta-Slalom consists of 6 durable turn buoy booms and 2 end gates with buoy riser lines permanently attached. The turn booms are in 3 sections that telescope out and link together with the push of a button. No eye bolts, pins, couplings or hardware to hassle with or lose. The end gates consist of one telescoping section. The boom sections telescope down to an amazingly compact size.
Durable Mainline on Compact Easy Wind Reel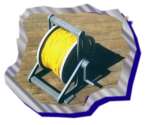 The mainline, to which the booms are connected, place the buoys in their proper position. The mainline comes in your choice of durable solid braid polypropylene rope or vinyl coated stainless steel and is stored on a durable easy wind reel. Both mainlines will maintain tournament level accuracy, resist stretching and are easy on your hands and boat. Both mainlines come with a lifetime warranty!
Completely Assembled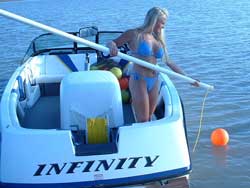 Insta-Slalom comes completely assembled, ready to use. Other portable slalom courses require the added expense and time of buying PVC pipe and tools to complete assembly yourself. There are several options available to suit your needs. Buoys and anchors are optional.
Everything is made of durable non-corrosive materials and will not rust or scratch your boat.
Simple To Install
Simply attach an anchor to the mainline and lower overboard. Drive the boat forward unwinding the mainline. At the appropriate points, the telescoping boom sections are telescoped out with buoys snapped onto the buoy riser lines and attached to the mainline. A short rope attached to the anchor at the end of the mainline is used to apply tension. When the rope is released the anchor holds the course in perfect alignment. Everything is quick to connect, with no loose parts and no tools required. River Adapters are available for use in rivers or tidal currents. 55 meter pregate additions are also available.
Layout of an Insta-Slalom Course